New Year, New You: setting yourself up for success or heading for failure?
So it's that time again, when we take stock of the year that's passed and set goals for the one about to start. Did you write down those goals you set for 2018? I'm not talking about the drunken resolution you made in the pub on New Year's Eve to cut down on the Prosecco, or the guilty declaration you made after finishing your third box of Ferrero Rocher in as many days – I'm talking about career goals.
Did you hit them? If you did – YAY! Go you! But what if you didn't?
Don't beat yourself up about it. The good news is for most of us, there's no time limit; no end date when we have to win a BAFTA or premiere our first film or do our first book signing by. There's always next year. But don't let that become an excuse for not focusing and working hard now, because 'next year' never comes.
Ask yourself – why didn't I hit those goals? Truth is, a lot of the goals we set ourselves are completely out of our control. One of my goals was to place in a major screenwriting contest or two. Now, that felt like a reasonable goal to me – I've placed in other contests and been shortlisted for the BBC Writers Room – but it's not down to me, it's down to whoever reads the scripts. And for whatever reasons, mine didn't make the cut this year. I still think they're great scripts, but maybe they just weren't what the judges were looking for. This business is subjective. It happens.
Maybe I should have framed that goal a little differently. Maybe it should have been – to write a couple of screenplays and make sure they're polished to a high enough standard for screenplay contests. That's totally within my grasp, and what's more it has the added possibility that one of them might place in a contest. A bonus goal!
Similarly your goal might be to get an agent. But again, that's not in your control. The perfect agent may well be out there, but not currently taking on more clients. They might already have a client who writes your genre and are looking for something else. There are so many agents and so many writers in the world, it could take a while for you to find each other. And submitting to an agent can take time, especially literary agents; some want full manuscripts, others want a synopsis and three chapters, some want a one-page outline and the first 10,000 words, some want a bio…
Maybe your goal should be: I'll submit my work to two agents a month. That's realistic and in your power. And again, bonus goal – one of them might decide to represent you!
Setting yourself goals should not be a way to make yourself feel bad about your lack of progress or success, it should be a way to ensure that you focus on the things that are important to you in your life and career. Want to lose weight? Don't swear to lose a stone and fit into that dress you bought in the sales that's two sizes too small. Set yourself a goal of improving your health and fitness, because whatever you achieve will make you feel better – even if you STILL can't get that dress zipped up.
So, what did I achieve last year and what do I want to make happen in 2019?
Well, 2018 was a bit of a year for me… I didn't get those contest placings, but I DID end the year with one finished, polished script that I am totally in love with, and one that is in the latter stages of a polish and tweak. I'm happy with that.
I was going to pitch and get my work out there. Didn't do so well at that one but I did submit screenplays to several script call outs and I've been talking to a lot of fellow writers and film creatives on social media – which led to me selling my first script option to a fledgling filmmaker in LA (via Twitter!) and to an upcoming meeting with a film producer in London.
Something I hadn't seen happening was the release of my first novel, Dead in Venice, which was picked up by Audible as one of their Crime Grant finalists. This also got me a wonderful agent, who as we speak is sending out the manuscript to print publishers.
So for 2019… My HOPES are that Dead in Venice (and hopefully a whole series with the same characters) gets a book deal, but that's out of my hands. What I CAN do, however, is finish polishing my second novel, Priceless, and start on the next one. So my goal is to have two more novels finished to publication standard this time next year, maybe with another one on the go. I HOPE Parliamentary Affairs, the optioned script, gets a step further to production, but again there's nowt I can do about it. So my GOAL is to get my other screenplays out there and hopefully get some interest in them.
The main thing is: set yourself a target that you can actually hit with a bit of effort. Don't make it too easy, otherwise you won't achieve anything – but don't make it unrealistic, too hard or something that you can't control, because most of us face enough rejection and failure as it is without imposing it on ourselves.
Here's to a Happy New Year, and a successful, productive and FUN 2019!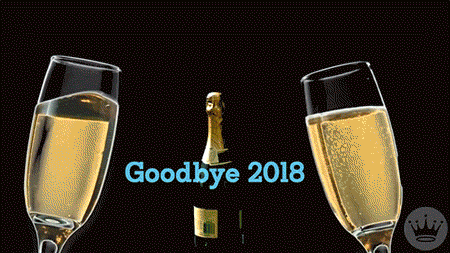 Please reload
I'm busy working on my blog posts. Watch this space!
Please reload